Preventing airspace infringements in the vicinity of Warwick
[UPDATED November 2020]
This infringement update is the third in a series of narratives focusing on identified infringement 'hot-spots' in the UK. It has been written by members of the Midlands LAIT: Birmingham Airport Air Traffic Limited, the Flight Information Service Officers at Coventry Airport and Wellesbourne Mountford Aerodrome and the CAA. It has been updated in November 2020.
A constant 'hot-spot' for airspace infringements is the Birmingham Control Area 2 (CTA2) which lies to the south of the Birmingham Control Zone. Its base of 1,500 ft amsl (based on the Birmingham QNH) and extends to 4500 ft amsl to the base of the Daventry CTA (Class A). The Birmingham CTR and CTA are both Class D controlled airspace. In the period from 1 January to 11 October 2019, there were 21 infringements of CTA 2 amounting to 56% of all airspace infringements affecting Birmingham controlled airspace. The airspace is in place to facilitate descents to final approach to Runway 33 and departures from Runway 15. Significant ground features in the vicinity of the CTA are Leamington Spa and Warwick which straddle the boundary between CTA 2 and CTA 4 (base level 3,500 ft Birmingham QNH), the M40 motorway and Coventry Airport and city to the northeast. Warwick Castle, a popular scenic turning point, lies almost 1nm north on the southern boundary of, and under CTA 2.
Following consultation with the Birmingham Local Airspace Infringement Team, the CAA, and a review of infringement data, Birmingham Airport has taken the decision to remove the M40 J15 Warwick VRP (with effect from 10 September 2020). The 1:500,000 and 1:250,000 VFR charts will be amended when re-issued.  Pilots are reminded that routing to the south of Royal Leamington Spa will prevent an infringement of CTA-2.
An infringing aircraft that is not radar identified by Birmingham Air Traffic Control becomes unknown traffic; a separation standard of 5nm laterally or 5,000 feet vertically is required between that aircraft and IFR aircraft inbound to, or outbound from, Birmingham Airport.
Arrivals to Runway 33 are routed through CTA 4 (3,500 feet to 4,500 feet) descending into CTA 2 (1,500 feet to 4,500 feet) prior to entering the CTR (surface to 4,500 feet) prior to landing (see chart 2). As the inbound traffic will be descending, the air traffic controllers have little option other than to either break the aircraft off the approach or issue radar vectors to maintain 5nm lateral separation or to stop an aircraft's descent 5,000 feet above the unknown traffic posing the challenge then to descend the aircraft in sufficient time to establish a stable approach.
Arrivals to Runway 15 from the south are routed via either downwind left-hand or right-hand through CTA 4 and CTA 2 into the CTR as depicted in Chart 3. As the inbound traffic will be descending, the air traffic controllers have little option other than to issue radar vectors to maintain 5nm lateral separation or, if they are still high enough, to stop an aircraft's descent 5,000 feet above the unknown traffic.
Departures from Runway 15 at Birmingham Airport will climb out towards CTA 2 and CTA 4 (see chart 4). Again, to maintain standard separation of 5nm laterally or 5,000 feet vertically, departing aircraft may have to be issued with radar vectors; in addition, depending on the position, heading a height of the infringing aircraft, departures may need to be suspended and inbounds issued with amended missed approach.
Non-squawking aircraft operating underneath the CTAs will be deemed to be clear of controlled airspace; should that traffic be infringing controlled airspace, the risk of a mid-air collision is heightened.
Inbound to or Outbound from Coventry Airport?

Coventry lies underneath Birmingham Control Area 2 (CTA2), and the base of this controlled airspace is 1500ft QNH (1267ft Coventry QFE). Due to the high risk of potential confusion, Coventry will issue the Coventry QNH rather than QFE to aircraft in/outbound (QFE is available on request but remember the base of controlled airspace is close).
No overhead joins are permitted due to the controlled airspace above. Straight in approaches are not encouraged due to integrating with circuit/joining traffic via the following VRP's.
For Runway 23, routing is via Draycott water VRP to integrate with circuit traffic on left base. For runway 05, routing is via Southam VRP to integrate with circuit traffic on Right base. Circuit altitude is 1,200 feet QNH (Height 1000 feet QFE).
Once on the Coventry frequency, pilots will be given the Coventry conspicuity squawk and reminded to remain outside AND BELOW controlled airspace, as an aid to help prevent airspace infringements.
Aircraft routing around the Coventry ATZ/through the runway approaches for Coventry should contact Coventry Information on 123.980 MHz for a basic service and any relevant traffic information. Traffic on the Birmingham 0010 will not be passed traffic into/outbound from Coventry by Birmingham radar and will not be monitoring your flight around Coventry!
Inbound to or outbound from Wellesbourne Mountford?
When operating to/from Wellesbourne Mountford remember that the aerodrome elevation is almost 150 feet; this equates to 5 hPa. If you are flying on the Wellesbourne QFE, remember its relationship to the Birmingham QNH; you could be flying higher than you think in relation to controlled airspace. When departing to the northwest or northeast, make a plan that includes the wider airspace picture. Consider how to avoid Snitterfield Gliding Site (winch launching up to 2,400 feet amsl) early in your plan; a recent airspace infringement saw a pilot, who was flying from Wellesbourne Mountford to Halfpenny Green, make a late plan to avoid Snitterfield to the east after climbing to 2,000 ft. This resulted in the pilot infringing CTA2; an early plan to route via Stratford-Upon-Avon and Studley would have kept the aircraft well clear of the lower CTA. To assist in this, the team at Wellesbourne Mountford have produced a much-simplified diagram. Published primarily for departures from Wellesbourne it applies equally to inbound and transit traffic. It is published on the website and regularly briefed to visitors.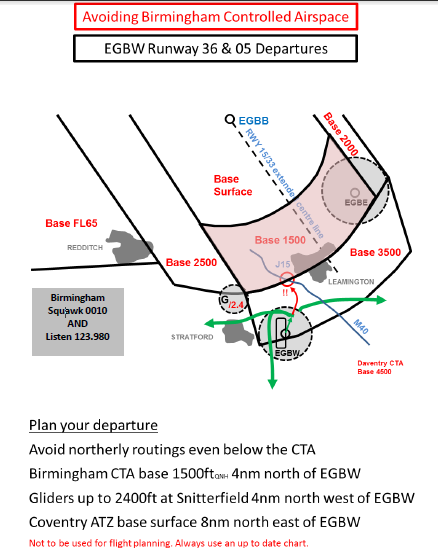 Avoiding Birmingham Controlled Airspace
To prevent an airspace infringement, as part of their pre-flight planning and in-flight execution, pilots are strongly encouraged to:
Use a Moving Map and where able Take 2;
Obtain an air traffic service.Know which ATS unit can provide a LARS. To the west and northwest, it is Shawbury (133.150MHz), to the south and southwest it is Brize Norton (124.274 MHz) and to the northeast it is East Midlands (134.180MHz).
Use the FMC. Rather than squawking 7000, if you do not want to obtain a service from ATC, use a Frequency Monitoring Code by squawking 0010 and monitoring 123.980MHz. Obtain the Birmingham QNH from the ATIS frequency (136.030 MHz) or by listening to that given to other aircraft on 123.980MHz
Avoid flying on the RPS in the vicinity of Birmingham CTAs. When flying on the RPS, as it is the forecast lowest QNH for a region, you will be higher in relation to the Birmingham QNH. If you are receiving a FIS from London Information, ask the FISO for the Birmingham QNH rather than remaining on the Barnsley RPS (or Cotswold RPS if flying from the southwest). In addition, this can be obtained on the ground prior to departure by calling Birmingham's ATIS number of 0121 767 1260; this not only gives the QNH but will also give you an idea of the runway in use, the current weather and TAF.
Make a Detailed Plan. Build in your climb and descent points when routing in the vicinity of multiple CTAs with differing base altitudes. Know what VRPs look like and what airspace lies above them or close by.